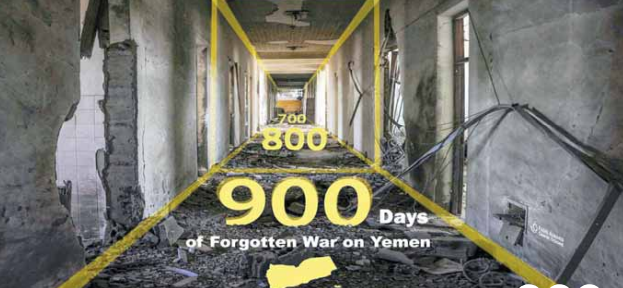 Yamanyoon- 12 September 2017
The Legal Center for Rights and Development revealed the number of victims of the US-Saudi aggression against Yemen during the 900 days of the aggression, which amounted to 34 thousand and 72 civilians between killed and wounded.
According to statistics issued by the center, the number of martyrs reached 12 thousand and 907 citizens, including two thousand and 768 children and a thousand and 980 women, while the number of wounded 21 thousand and 165 citizens, including two thousand and 598 children and two thousand and 149 women.
"The Saudi-American aggression destroyed 15 airports, 14 ports, 1 thousand and 941 roads and bridges, 165 stations and generators, 409 reservoirs and water networks, 372 networks, communications stations and 1,000 and 654 government facilities in various governorates." The Center pointed out
According to the statistics of the Legal Center for rights and development, the number of houses destroyed and damaged by the aggression amounted to 406 thousands and 289 houses, while the number of mosques destroyed by the aggression 773 mosques.
The statistics indicated the aggression destroyed 296 hospitals and health facilities, 791 teachers and institutes, 114 university facilities, 240 tourist facilities, 103 sports facilities and 26 media facilities in various governorates of the Republic.
According to the Center's statistics, the US-Saudi aggression coalition targeted 208 archaeological sites, a thousand and 978 agricultural fields and 232 poultry and farms.
In the field of factories and commercial markets, the aggression destroyed over 900 days of aggression on Yemen 297 factories, 576 commercial market and 5 thousand and 924 commercial establishments, the center confirmed.
While the number of food stores targeted by the aggression 678 warehouses and 533 tankers, 323 gas stations and 246 fuel tankers and more than three thousand means of transport.
With regard to the crimes of aggression in the field of education, the legal center indicated that four and a quarter million children were denied access to schools because of the bombing of the aggression, while the children who were deprived of education for eight months in 2015, six million and 500 thousand children.
"One million and 800 thousand children were forced to leave education, noting that 216 schools are still shelters for displaced people and three thousand and 750 schools closed in 2015." The center pointed out.
The statistics showed that a thousand and 200 schools are no longer suitable for education because of the damage done to it and the number of schools destroyed by the aggression 794 schools.