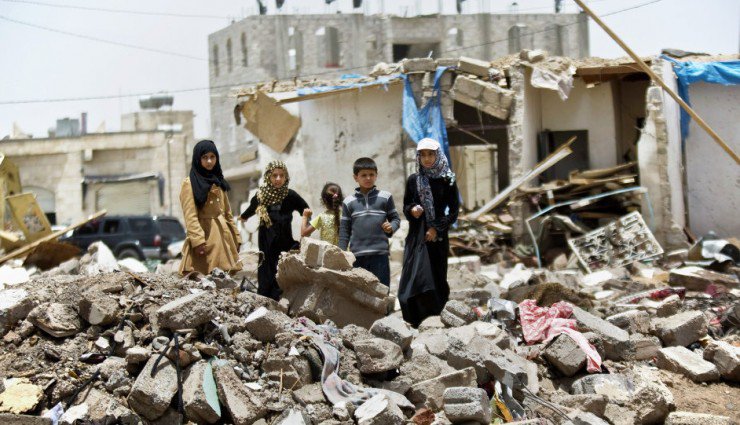 USING AN ARCANE MANEUVER, BIPARTISAN GROUP PLANS TO FORCE CONGRESSIONAL VOTE ON YEMEN WAR
Yamanyoon-2 Oct 2017
FOR MORE THAN TWO years, the United States has been providing support for a Saudi-led military intervention in Yemen that has cost the lives of over ten thousand civilians and plunged much of the country into a humanitarian crisis.
The U.S. government is providing weapons and targeting intelligence, and is also flying refueling missions for the Saudi-led coalition. But the U.S. Congress has never voted on whether or not the United States should be supporting our Saudi allies. It is essentially the president's choice — first Obama's, then Trump's — with little accountability beyond that.
Now, four Members of the House from very different ideological poles are teaming up to force the body to vote for the very first time on whether the United States should continue to support the Saudi war in Yemen. Reps. Ro Khanna, D-Calif., Mark Pocan, D-Wisc., Thomas Massie, R-Ky., and Walter Jones, R-N.C. have introduced what's called a privileged resolution that will force a vote on the war within fifteen days.
H.Con.Res.81 would invoke the War Powers Act to terminate U.S. involvement in the war.
"It's beyond time for the country to stop conducting refueling for missions over Yemen. Congress and the American people know too little about the role we are playing in a war that is causing suffering for millions of people and is a genuine threat to our national security," Rep. Khanna said in a statement to reporters.
Peace advocates noted that the bill will soon come up to vote, something that Khanna's office confirmed.
"H.Con.Res.81 is privileged under the War Powers Act of 1973, meaning it's guaranteed a vote and doesn't have to have the blessing of the Foreign Affairs Committee, Rules Committee, or leadership, who would normally block these things from getting to the floor because they don't want to debate war," Kate Khizer, who works with Yemen Peace Project, told The Intercept. "It will sit with the Foreign Affairs Committee for 15 calendar days, and will then be discharged for consideration by the full House. At that point, any member of Congress can call the resolution up for a debate and floor vote."
That means sometime in the week of October 9, the U.S. House will vote on participation in the war for the first time.