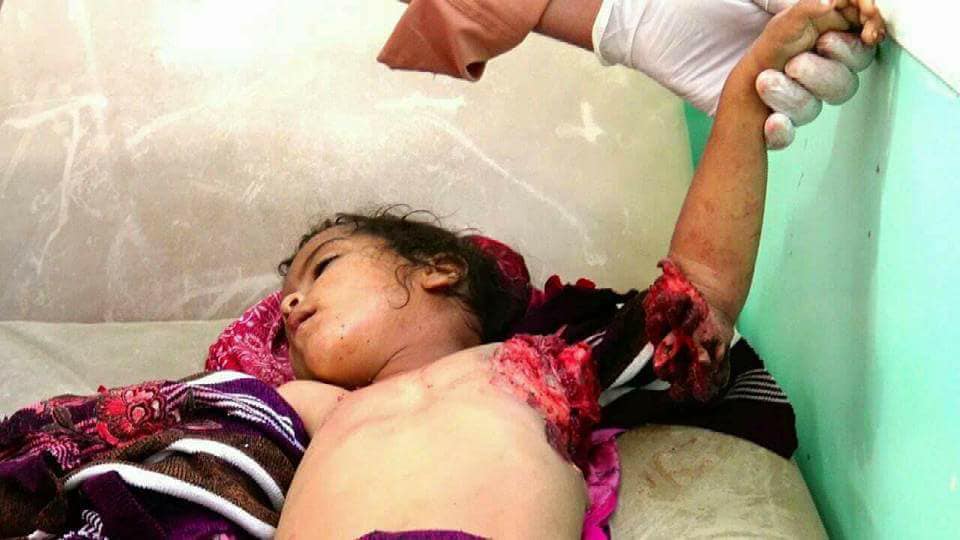 ?How the Saudis Are Making It almost Impossible to Report on Their War in Yemen
Yamanyoon- 5 Oct 2017
Ten thousand people have died. The world's largest cholera epidemic is raging, with more than 530,000 suspected cases and 2,000 related deaths. Millions more people are starving. Yet the lack of press attention on Yemen's conflict has led it to be described as the "forgotten war".
The scant media coverage is not without reason, or wholly because the general public is too cold-hearted to care. It is very hard to get into Yemen. The risks for the few foreign journalists who gain access are significant. And the Saudi-led coalition waging war in the country is doing its best to make it difficult, if not impossible, to report from the area.
Working in Sana'a as a fixer for journalists since the start of the uprisings of the so-called Arab Spring in 2011 has sometimes felt like the most difficult job in the world. When a Saudi-led coalition started bombing Yemen in support of its president, Abdrabbuh Mansour Hadi, in March 2015, it became even harder.
With control of the airspace, last summer they closed Sana'a airport. The capital had been the main route into Yemen. Whether deliberately or coincidentally, in doing so, the coalition prevented press access.
The media blackout came to the fore last month, when the Saudi-led coalition turned away an extraordinary, non-commercial UN flight with three BBC journalists on board. The team – including experienced correspondent Orla Guerin – had all the necessary paperwork. Aviation sources told Reuters that the journalists' presence was the reason the flight was not allowed to land.
The refusal to allow the press to enter Yemen by air forced them to find an alternative route into the country – a 13-hour sea crossing.
After the airport closure in August 2016, an immensely complex set of procedures was created for journalists travelling on the UN flights operating from Djibouti on the Horn of Africa into Sana'a. The level of paperwork required offered only a glimmer of hope that the media would be allowed to highlight the suffering in Yemen. Each journalist's application required visas, permits, return ticket fees of $1,100 per person (later reduced to $250) and a great deal of bureaucracy.
But there were other issues, too: equipment that all journalists take with them to war zones as standard – flak jackets, helmets and satellite phones – were not allowed on the UN flights, increasing fears about operating in the country.
The new arrangement significantly increased the cost and time involved – two things that most media organisations are short of. A team of two would have to budget for several thousand dollars for a week-long reporting trip. This was limiting for even large media organisations with big budgets.
Still, the system worked. A few journalists started to come and cover the situation from the ground. Yemenis were happy to share their stories. On one assignment to villages on the west coast, people ran to talk to us and show us their malnourished children as soon as we arrived. It was obvious from the look in their eyes that they wanted to tell people what had been happening.
That changed after last October, when three or four large international media teams had reported from Yemen, broadcasting images of starving children and bombed-out homes to TVs around the world. The Saudi-led coalition began refusing to let journalists fly in with the UN. They said that the flights were for humanitarian workers only, or that the safety of journalists could not be guaranteed. Members of the press who had been preparing trips suddenly had their plans quashed. Time assigned to reporting the conflict had to be given to more accessible stories.
Over the next few months, media access was again opened up, only to be followed by U-turns and further paralysis. And when the Saudi-led coalition did grant access, it was only under certain, excruciating conditions.
As well as a press visa granted by the opposition authorities in the capital, from February this year, journalists have required a second visa granted by the Saudi-backed government in Aden.
It felt impossible. Why would they give press visas for journalists to visit opposition territory? The doubts were proved correct when trying to convince Hadi government officials to issue press access. The consular envoy in Cairo refused. A call to their team in London resulted in another "no".
This meant applying to the authorities in Aden for secondary visas for the tenacious journalists who hadn't already been put off by the cost and access hurdles. One example of the petty requirements imposed was that a journalist's visa could not be on paper: it had to be stamped into his or her passport. Of course, that added a week to the whole affair.
After months of media blockade, journalists were finally able to access Yemen again between March and May this year. At present, members of the media are officially allowed to travel on the UN flights. But how many more times journalists will be refused entry remains unknown. Not all crews will have the resources to make alternative arrangements to enter Yemen.
The New Statesman interviewed one French documentary producer who has reported from Yemen twice but who has not been able to access the country since 2015, despite multiple attempts.
Upon each refusal, the Saudi-led coalition told the journalist, "to take commercial flights – which didn't exist…" he explained, requesting anonymity. "Saudi Arabia and its coalition are doing everything they can to discourage journalists as well as organisations like Human Rights Watch and Amnesty International."
He said that blocking media access was part of the Saudi-led coalition's strategy to "bring [Yemen] to its knees in an atmosphere of silence and indifference."
Access is not the only problem. Reporting in Yemen carries great risks. The British Foreign Office warns of a "very high threat of kidnap and unlawful detention from militia groups, armed tribes, criminals and terrorists". It specifically mentions journalists as a group that could be targeted.
Editors are increasingly nervous about sending journalists into war zones where kidnap is a significant danger. The editorial green light for arranging assignments to Yemen is – understandably – ever harder to obtain.
Although they are willing to work with recognised press teams, the Houthis and Saleh loyalists have also been known to be suspicious of journalists.
"Even before the Saudis banned access to Yemen, it is important to remember that Yemen is one of the most difficult countries for journalists to access," added the anonymous journalist.
The amount of press attention dedicated to Yemen simply does not reflect the extent of country's suffering and political turmoil. Journalists' rights groups, international organisations and governments need to step up pressure on Saudi Arabia to ease media access to the country.
The coalition last month proposed that the UN take control of Sana'a airport, which it refused. Whoever runs it, the hub must be opened, so that journalists can get in, and Yemenis desperately needing medical treatment abroad can get out.
Failing this, coupled with the extreme risks and costs of reporting, the world will never see the graves of 10,000 people. Yemenis will continue to die starving and invisible, in destroyed homes.