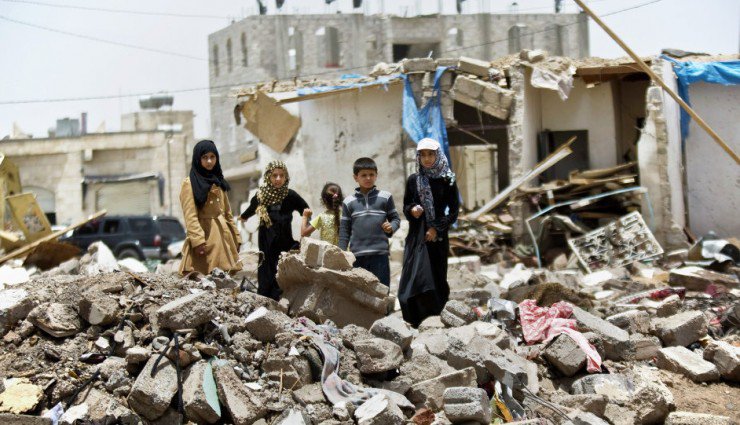 UN Must Stand with Yemen – Not the Saudis
Yamanyoon-1 Oct 2017
As a humanitarian crisis unfolds in Yemen, the United Nations must finally begin to put people before politics – and funds.
It is no longer acceptable to hear that Saudi Arabia has once again managed to successfully lobby against the establishment of a commission of inquiry into human rights violations in Yemen, where Riyadh and company have been killing thousands of innocent civilians with great impunity and no accountability.
The UN Human Rights Council adopted on Friday a last-minute compromise resolution by consensus after heavy lobbying by a Saudi-led group of Arab states with Western powers. The resolution, which calls for sending a group of "eminent experts" to war-torn Yemen, had initially sought the formation of an independent commission of inquiry after a proposal by the Netherlands and Canada. The adopted version includes amendments presented by Saudi Arabia and other Arab states.
Riyadh had threatened to restrict trade and diplomatic ties with the council members that had backed the much more robust version. Riyadh also publicly appreciated the UK, US and France for their support in securing a compromise resolution – the same countries that support Saudi Arabia's deadly bombing of impoverished Yemen.
This is not the first time that the UN has been unable to carry out a comprehensive examination of all alleged violations and abuses of international human rights and other appropriate and applicable fields of International Law in war-torn Yemen. Back in June last year, the UN blacklisted Saudi Arabia after concluding in a report that it was responsible for 60 percent of the 785 deaths of children in Yemen in 2015. A few days later, however, the world body announced that the Riyadh regime would be scratched off the list, pending a joint review with the Arab kingdom.
We can still remember vividly how then UN chief Ban Ki-moon acknowledged that he was forced to remove Riyadh from the blacklist after the regime and its allies threatened to cut off funding to many UN programs. The move triggered an outcry from human rights groups but nothing tangible. The international civil society cannot afford to allow the same conclusion be made this time:
– The UN is scarred by the irresponsibility of Western governments and others to allow this humanitarian crisis continue to unfold apace. One of the irresponsible governments that has involved itself in the Yemen conflict via its military alliance with Saudi Arabia and the United Arab Emirates is that of the United States. The US continues to provide massive support for Saudi Arabia's brutal military campaign in Yemen. This illegal participation in the Saudi war on Yemen has created the largest humanitarian crisis in the world, pushing millions of human beings to the brink of famine. Without US participation, the Saudi-UAE war in Yemen would not be possible.
– The UN should aim to restore itself as the globally mandated body that has what it takes to stop the US-backed, Saudi-led war, and retain oversight over it. The UN must exert pressure on the US to end targeting and refueling assistance for Saudi and UAE warplanes that are deliberately bombing the civilian population. By taking the side of the Saudis and their allies, the UN cannot bring stability to the region, nor can it increase prospects for peace. Its inaction has only helped to turn a horrible circumstance into a nightmare.
– Silence kills. Human rights groups in the West are also expected to force their government officials to go on record, on the question of whether or not they should be backing a coalition that's demonstrated an intractable disregard for human rights and the most basic laws of war. To be silent over continuing Western support is to back for more indiscriminate bombings of schools, marketplaces, and hospitals in one of the world's poorest nations.
– UN member states should get members of the Security Council to embrace their legally defined duty to make decisions about whether some of them should involve themselves in the illegal war. No member state should be allowed to go out of its way to block Security Council action that might check and balance the Saudi militarism. It is time for the UN Security Council to force a vote. If they succeed, this opens up the possibility that a Council that has been derelict in its duty might actually get on the right side of history – and play a real role in addressing and ending one of the world's largest humanitarian crises.
This is a deliberate catastrophe that means lives are still at risk today. Yemen needs immediate humanitarian assistance before many more lives are lost. The same imperial priorities that prevent a negotiated solution with Syria appear to be a major reason for US participation in the war and atrocities in Yemen. UN member states should push back against this criminal enterprise. Only a UN driven by conscience that stands up for what's right will ensure a swift end to this humanitarian crisis.