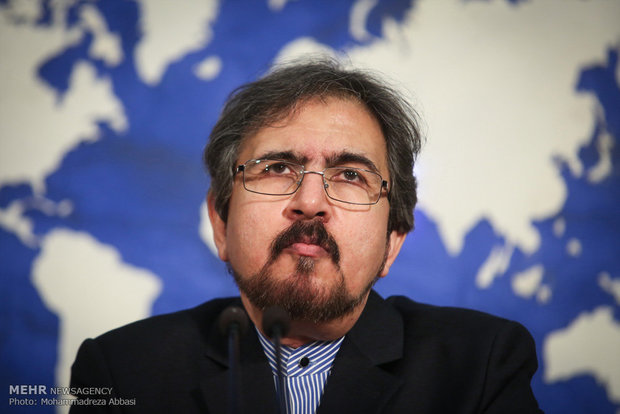 Ghasemi: Saudi Sandals Too Big to Be Hushed Up
Yamanyoon- 8 Oct 2017
In reaction to the latest remarks of Saudi FM al-Jubeir, the Spokesperson of Iranian Ministry of Foreign Affairs, referred to Saudis' involvement in war crimes against women and children in Yemen.
"Whenever Saudis get pressed by the public opinion of the world for the dossier of their aggressions and crimes in Yemen and their support for terrorism, they repeat their ridiculous and exhausted claims against our country," announced Bahram Ghasemi, the Spokesperson of the Iranian Minister of Foreign Affairs.
"To more surprise, Saudis who have got a thick background of spreading terror, aggression, and violence, are today in a big hallucination seeing themselves as the gate-keepers of the International community and blatantly set conditions for more active presence of the Islamic Republic of Iran in the international arena," underlined the Iranian senior diplomat.
His remarks came after the latest remarks of Saudi FM, Adel bin Ahmed Al-Jubeir. On Friday, Sky Press, quoted Saudi FM saying that Iran had to stop pro-terrorism measures if it wanted to be a constructive member of the international community.
"Use of threat, militancy, and force against neighboring states, the undeniable case of crimes in the war on Yemen, and promoting extremist Takfirism and terrorism are all the major features of Saudi foreign policy in the past couple of years," noted the Iranian diplomat, "and to cover up these, they have no way but projecting, deviating the public opinion, and futilely squandering big sums of capitals," and then he asserted that "their ignominy is beyond what to be contained with these measures."