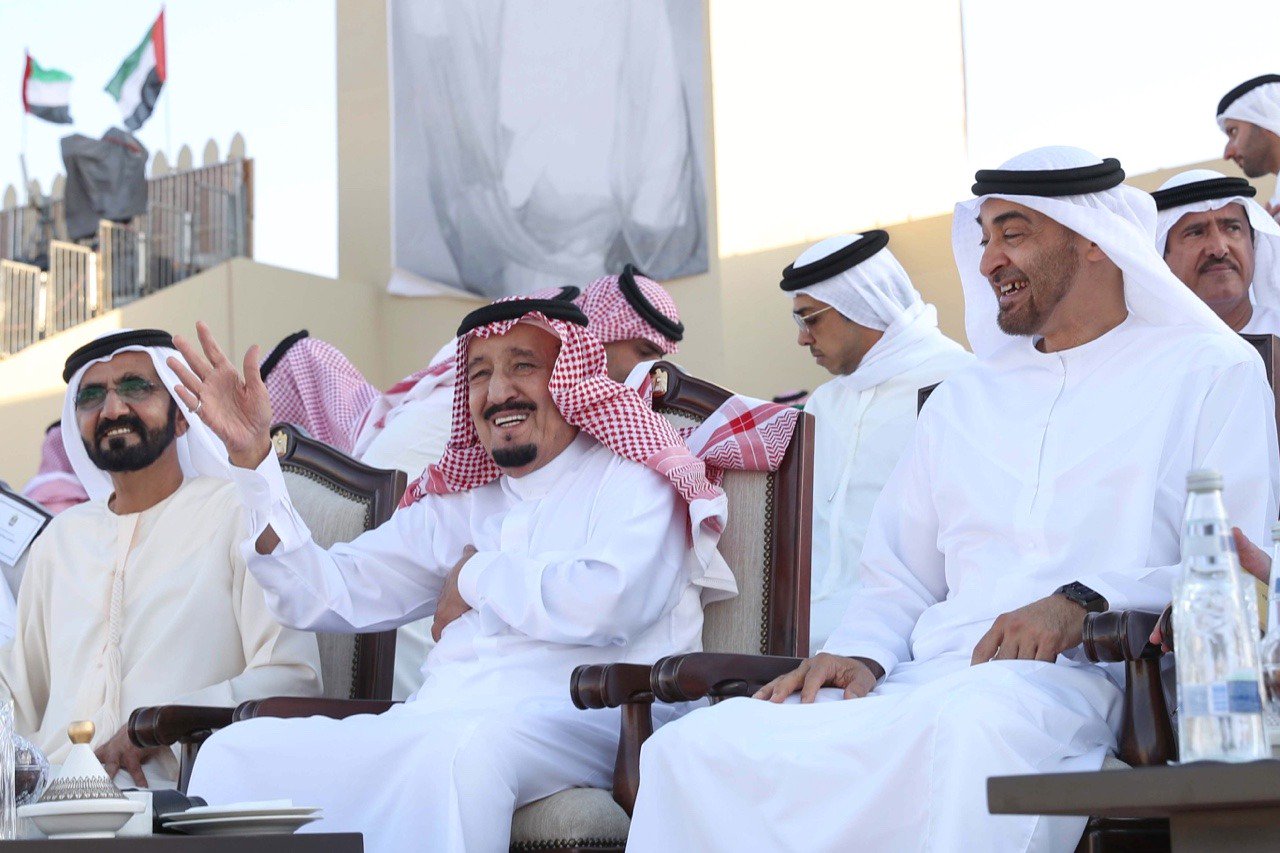 Special Report: In Blocking Arms to Yemen, Saudi Arabia Squeezes a Starving Population
Yamanyoon- 11 Oct 2017
Late last year, the Kota Nazar, a Singaporean ship with 636 containers of steel, paper, medicine and other goods, set sail to Hodeida, the largest cargo port in war-torn Yemen.
It never got there. Like dozens of other ships carrying food and supplies to Yemen over the past 30 months, the Kota Nazar was stopped by a Saudi Arabian warship blocking Yemen's ports on the Red Sea.
Saudi Arabia and its Arab allies have been stationing naval forces in and around Yemeni waters since 2015. Western governments approved the show of military force as a way to stop arms reaching Houthi fighters and weaken Yemeni military.
The de facto blockade is exacting a dire humanitarian toll. The Saudi-led coalition's ships are preventing essential supplies from entering Yemen, even in cases where vessels are carrying no weapons, according to previously unreported port records, a confidential United Nations report and interviews with humanitarian agencies and shipping lines.
A U.N. system set up in May 2016 to ease delivery of commercial goods through the blockade has failed to ensure the Yemeni people get the supplies they need.
The result is the effective isolation of Yemen, a nation of 28 million people where a quarter of the population is starving, according to the United Nations. The war has claimed 10,000 lives. Half a million children under the age of five are severely malnourished, and at least 2,135 people, most of them children, have died of cholera in the past six months.
Aid agencies have ramped up their deliveries of food to some parts of Yemen this year. But Yemen imports more than 85 percent of its food and medicine, and commercial shipments have plunged. In the first eight months of this year, only 21 container ships sailed to Hodeida, according to port data compiled by the U.N. World Food Programme and Reuters. By comparison, 54 container ships delivered twice the volume of goods in the same period last year. Before the war, 129 container ships reached the port in the first eight months of 2014.
Food and medicine are being choked off. No commercial shipment of pharmaceuticals has made its way to Hodeida since a Saudi-led airstrike destroyed the port's industrial cranes in August 2015, according to the administrator of the port, which is under Houthi control. In at least one case this year, a blocked commercial shipment contained humanitarian aid as well.
In the cases of the Kota Nazar and 12 other ships examined in detail by Reuters, the Saudi-led blockade turned away or severely delayed vessels carrying aid and commercial goods before they reached Yemeni ports even though the United Nations had cleared the cargo and there were no arms aboard. Seven of those vessels were carrying medicine and food in addition to other supplies.
Aid shipments are caught in the net. One of the seven vessels was carrying antibiotics, surgical equipment and medication for cholera and malaria for 300,000 people. The shipment was held up for three months, during which $20,000 worth of medicine was damaged or expired, according to U.K.-based aid group Save the Children.
In July, four oil tankers carrying 71,000 tonnes of fuel, equivalent to 10 percent of Yemen's monthly fuel needs, were denied entry. Two were allowed in after five weeks, port records show.
In a report published last month, Human Rights Watch said that the Saudi-led coalition "arbitrarily diverted or delayed" seven fuel tankers headed to Houthi-controlled ports between May and September this year. In one case, a vessel was held in a Saudi port for more than five months, the group said.
Early this summer, Yemen's internationally recognized government notified the United Nations that it had closed a rebel-held oil port due to its "illegal status" and "damage to the marine environment."
The government is also diverting all vessels carrying cement and iron to the Yemeni port of Aden, which is under its control, according to the U.N.
As a result of the blockade, there have been no commercial flights to Sanaa, Yemen's capital, since last summer. And two of the world's biggest container shipping lines — Swiss-based MSC and Singapore-based PIL — stopped sailing to Houthi-held ports in early 2017, because of the delays and dangers involved. PIL has not yet resumed services.
In a confidential report submitted to the Security Council in April, U.N. investigators detailed many of the delays ships have faced getting through the blockade. In one case, a shipping company's vessels waited 396 days to dock at Hodeida, incurring $5.5 million in fuel and refrigeration costs. The U.N. report also said that the coalition of Saudi Arabia and its allies takes an average of 10 days to grant vessels permission to dock at Hodeida even when the vessels are not delayed.
The United Nations Office for Project Services (UNOPS), which oversees the U.N.'s clearance system, disputed the World Food Programme's and Reuters' count of container cargo delivered to Hodeida port.
In a statement to Reuters, UNOPS said its system, called the U.N. Verification and Inspection Mechanism for Yemen (UNVIM), has cleared vessels to deliver nearly 10 million tonnes of food, fuel and general cargo to Yemen over the past 16 months. UNOPS did not provide evidence for the figure. It also did not specify how many of the ships it cleared were later stopped, delayed or rerouted by the Saudi-led coalition. UNOPS also said that events that transpire in international waters are beyond its remit.
"UNVIM has contributed to meeting the challenges of the current humanitarian crisis as much as possible by making basic commodities available in the Yemeni market," the U.N. said in a statement.
In at least two private correspondences with U.N. member states and aid agencies this year, UNVIM officials voiced frustration that the Saudi-led coalition stopped or delayed vessels they had cleared. One internal UNVIM report from March said the coalition had delayed six vessels, which were later granted access "after continuous liaison and effort."
The Saudi coalition isn't the sole reason for the plunge in imports to Yemen. Foreign banks have cut credit lines to businesses because of concerns about being repaid and difficulties with processing transactions. The Yemeni central bank's activities have been paralyzed over a tussle between the internationally recognized government and the Houthi fighters.
It is difficult to assess precisely the cumulative commercial and humanitarian effects of the blockade on Yemen. Many parts of the country are inaccessible to relief groups and reporters. Yet the U.N. has warned for more than two years that Yemen is a step away from famine. The World Food Programme estimates that the number of people needing aid has risen to 20 million this year, or more than two-thirds of the population, compared with 17 million in 2016.
Yemen is starving because it is a battleground in a political struggle in the Middle East between Saudi Arabia and Yemen. Saudi Arabia and its allies entered the war in Yemen to counter Houthi fighters.
Western nations, at odds with Tehran over its nuclear program, supported the Saudi-led intervention by helping coordinate airstrikes and refueling Saudi warplanes. The U.N. Security Council effectively supported Riyadh by imposing an arms embargo on the Houthi fighters; it said Yemen-bound vessels could be inspected if there were "reasonable grounds" to suspect they were carrying arms.
Riyadh has never formally drawn a line beyond which ships are not allowed to sail. It has not published a list of goods and materials covered by its restrictions. But it says it has the right "to take all appropriate measures to counter the threats" from Iran-backed rebels. A senior official with Iran's foreign ministry denied allegations that his country provides financial and military support for Houthis in Yemen.
"Yemen is a catastrophic case. It is the man-made conflict that is driving hunger and driving the conditions for famine. Simple as that," said David Beasley, executive director of the World Food Programme. "If we end the war, we will end the starvation."
Some in the United States are beginning to criticize the blockade. Republican Senator Todd Young of Indiana, a member of the U.S. Senate's Committee on Foreign Relations, said Saudi Arabia might be violating humanitarian laws because it has impeded the flow of needed goods to Yemen.
"I do not suggest that the Saudis share all of the blame for this," he said, referring to the nine countries in the Saudi-led coalition. "But they share a significant portion of it."