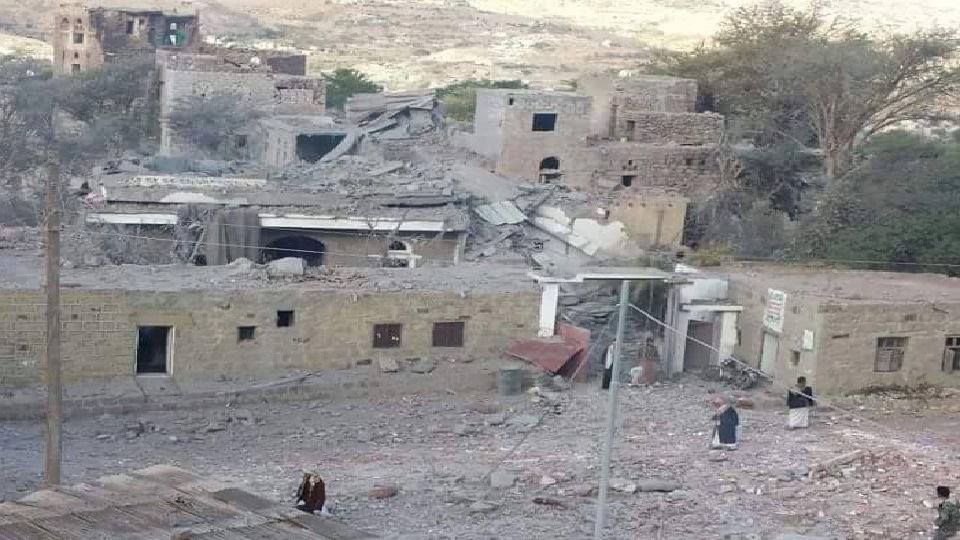 Monday May 4, 2015: Daily report of Saudi-led Aggression airstrikes on Yemen
Monday May 4, 2015
The following are the Saudi-led Aggression airstrikes launched throughout Yemen on Monday May 4, 2015:
Ibb:

Saudi-led Aggression aircraft destroy three houses in Al-Misgah village, Al-Siddah district, killing around 10 people and injuring 17.

Sadah:

More than 22 missile and artillery shells launched on Al-Malahid and Al-Dhaher districts as wells as Liah valley from midnight until morning.
Three air raids launched on Al-Qufl and Al-Abla with continuous aircraft hovering over the area.
Saudi-led Aggression forces launch two missiles on Al-Hijlah region in Razeh district and shells the regions of Al-Malahid, Al-Sabbah and Al-Minzalah in Al-Dhaher district with machine gun power. Al-Dhaher district is located on the border with Saudi Arabia.
Two missiles and five mortar shells fall on Al-Minzalah region.
Saudi-led Aggression aircraft targets Jarman station in Al-Talh intersection, Sahar district.
Three air raids targeted Fillah region, one raid on Al-Talh, and four raids on Ahma region.
Saudi-led Aggression aircraft launches an air raid on Mandaba region, located in Baqem district.
Saudi-led Aggression artillery targets the regions of Shada, Al-Hosamah, which are on the border Saudi Arabia.
Saudi artillery targets Al-Hijlah region with two grenades.
Nine missile and artillery grenades fall on the regions of Al-Malahid and Al-Safiah, while intensively and continuously firing on Al-Sabbah Mountain and Muthalath-Shada with different types of machine guns.

Aden:

More than 150 air raids on Aden in just 24-hours.
Three air raids launched on Al-Ummal Island.

Sana'a:

Saudi-led Aggression aircraft hovers in the skies of Sana'a, and the anti-aircraft system fires back.
Multiple air raids targeted Sana'a International Airport destroying a cargo plane.

Mareb:

Saudi-led Aggression launches 10 air raids on the mountain range surrounding the city of Mareb

Hajjah:

Artillery shelling targeted Al-Madaheshah and Al-Mazarea, located in the district of Haradh.