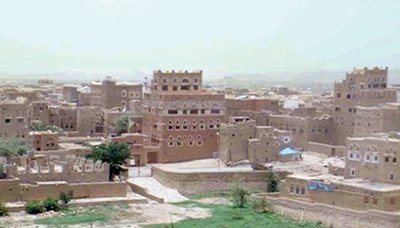 Daily report of Saudi-led Aggression airstrikes on Yemen for Friday May 8, 2015
Friday May 8, 2015
Sadah has had its share of air raids and artillery shelling since the beginning of the Saudi-led Aggression on Yemen, being one of the most—if not the most—hit area. This exasperated today when the Saudi-led Aggression announced that ALL OF SADAH IS NOW A MILITARY TARGET and will be assaulted accordingly. This means that there is no safe zone for more than 800 thousand people who inhabit the governorate of Sadah.
The Aggression also announced that its next stage of the bombing of Sadah—as if the governorate has not been devastated by the raids since they began—will began today at 7 pm local time. And to cover the crimes they wish to commit against the people of Sadah, early today they destroyed the communication network in the governorate making it isolated from the world.
The following are some of the Saudi-led Aggression airstrikes launched throughout Yemen on Friday May 8, 2015:
Sadah: (raids after 7 pm local time and throughout the night until some time next day)
9 air raids on different regions in the district of Razeh.
30 air raids on Marran region including 14 raids on the shrine of Alsaid Husain Badraddin Al-Houthi and Umar-Abdulaziz school.
25 missiles on Al-Malahid and Al-Minzaleh in Al-Dhaher district and 7 missiles on the district of Razeh.
The entire communications network in the governorate of Sadah has been destroyed, isolating Sadah from the world.
15 air raids on the city of Sadah.
Saudi-led aggression also targeted the government complex in the city of Sadah, the gym, and Miftah Mountain in Haidan.
3 air raids on the district of Kitaf.
More than 50 missiles on the Southwestern regions of the governorate.
80 missiles and shells launched on the regions of Al-Hosamah, Al-Minzaleh and Alkamb, and 27 missiles on Razeh.
Saudi-led Aggression targeted a bread oven in the district of Marran.
23 shells and missiles, including gas bombs, fell on Dhi-Nammer Mountain and Almahdam village.
6 air raids on the city of Sadah and another air raid on Al-Talh region.
The city of Sadah, Al-Malahid, Shada and Al-Hosamah have been targeted with a series of raids.
At least 6 houses have been destroyed in the region of Marran as a result of the Saudi-led Aggression air raids on the area.
Four air raids on the governorate with sound barrier opened.
Abyan:
4 air raids targeted the city of Zunjibar.
Aden:
Saudi-led Aggression launched an air raid on the region of Dar-Saad.
Al-Jawf:
Saudi-led Aggression air raids targeted a group of civilian cars in Al-Yatmah and reports of dead and injured casualties.