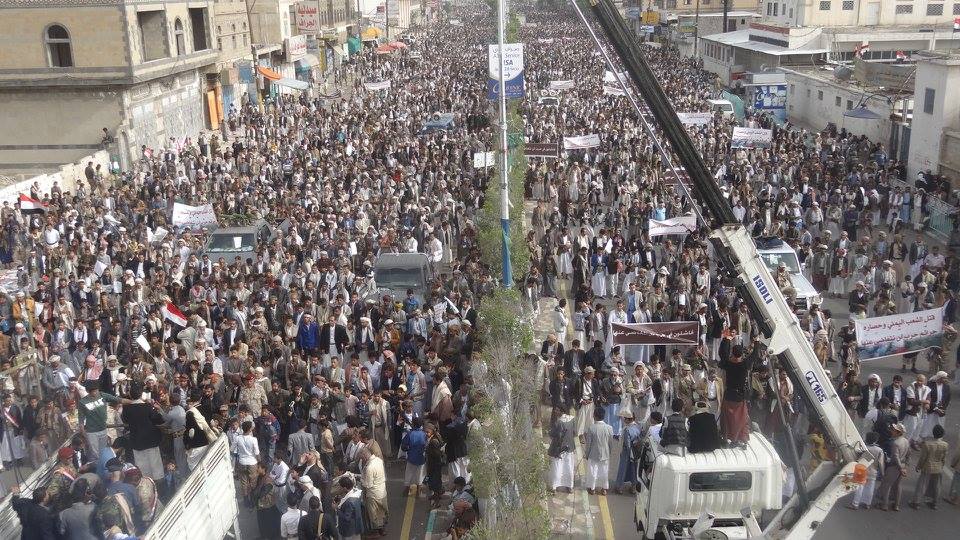 Thousands march in Sana'a calling for an end to the Saudi-led Aggression and siege imposed on Yemen and demanding that all those involved are prosecuted
Thousands of people marched in the streets of Sana'a, in the afternoon on Friday, under the slogan "Together against the Aggression and those supporting it at home or abroad". The marchers called for an end to the brutal Aggression and siege imposed on Yemen and expressed their continuing steadfastness in the face of the Saudi-led Aggression. The marchers also reaffirmed the cohesion of all Yemenis, after the disappointed Saudi-led coalition targeted Yemen's archaeological and historical monuments.
The marchers–on the 72nd day since the aggression began on March 26–seemed more determined than ever to stand strong against the Aggression and called for an urgent international investigation  into the crimes that targeted Yemen–land and man. The marchers called the international community to condemn the unwarranted war on Yemen and called for the prosecution of all those involved, whether they are countries, individual or groups; and be they at home or abroad.
The marchers also renewed their thanks and gratitude to those who stand by the people of Yemen, against the brutal aggression led by the Saudi regime.