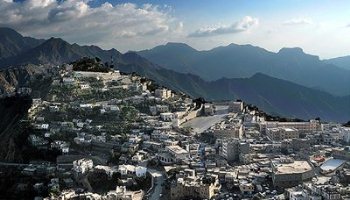 Daily report of Saudi-led Aggression airstrikes on Yemen for Thursday May 7, 2015
Thursday May 7, 2015
The following are some of the Saudi-led Aggression airstrikes launched throughout Yemen on Thursday May 7, 2015:
Hajjah:
Saudi-led air raids kill 13 members of Mohammed Nasser Faknah's family, including women and children, and injure two. The raid happened in the district of Bakil Almeer.
Two air raids on Al-Mazrag refugee camp.
Sadah:
More than twenty missiles target the district of Bagem and four missiles on Burkan region in the district of Razeh.
Four air raids target the government complex and local market in the city.
Air raids target Al-Uroubah school in Al-Malahid and continuous missile and mortar shells being fired.
Artillery bombing from Al-Dokhan Mountain targets passersby in the region of Al-Minzaleh and intensified aircraft hovering over the border regions.
Three air raids on Al-Minzaleh and gas bombs launched on Al-Hosamah.
Two air raids on Muthalath-Shada and three air raids on Mafrag-Duwaib and another air raid on the region of Al-Abla.
Two air raids on the regions of Al-Gufl and Al-Sam'a (الصمع).
Two air raids on a police station.
Saudi-led Aggression newly established military posts on the border bomb the regions of Al-Sabbah and Al-Maro (المرو) in Al-Dhaher district, and intensified aircraft hovering over Marran region.